Our Whale Watching Trips Run From January - May
WHALE WATCHING TOURS MORRO BAY
There are several different species of whales you are likely to encounter on one of our trips. California Gray Whales, Humpback Whales, Blue Whales, Finback Whales and Orca Whales are common sightings on the Central Coast. Additional wildlife includes seals, sea lions, dolphins and a rich variety of bird life; some of which are endangered and protected.
Whales are observed year round, we offer whale watching excursions all year. Southbound migratory period typically is December through mid-February. Northbound migration late February through April. Humpbacks are from late March through April into May. Blue Whales from April into summer. Orcas are seen any time.
On our Morro Bay whale watching tours you'll get a once in a lifetime educational experience. We have the most experienced skippers on the Central Coast. Our renowned skippers have the skills, knowledge and experience to take you to the marine life. Our skippers are known for their ability to find Gray whales, Orca whales, dolphins and a variety of many different types of marine life.
Trips may be added if interest is there. All trips are subject to weather cancellation up to 1 hour prior to departure.
Departure Times: Check booking schedule or call the office for times and departure dates. 805-771-5500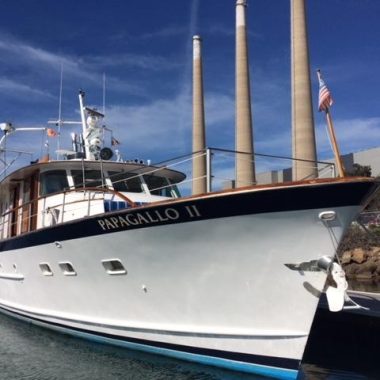 GROUP WHALE WATCHING VOYAGES
Morro Bay Landing offers the best whale watching experience on the beautiful central coast all year long. Our captain and crew know how to track down amazing sea life, close encounters include Grey whales, Blue whales, Humpback whales, Dolphins, Sea Otters and many variety of birds. This whale watching nature cruise is a two hour excursion for all ages. Book now and begin your relaxing journey. Be sure to capture this adventure bring your camera and binoculars.
Deprecated
: strtolower(): Passing null to parameter #1 ($string) of type string is deprecated in
/var/www/vhosts/morrobaylanding.com/httpdocs/wp-content/plugins/elementor/includes/utils.php
on line
727