Morro Bay Landing offers fishing trips for anglers of all ages and skill levels! Our trip lengths vary from:
1/2 Day Trip – 6 hours
3/4 Day Trip – 8 hours
Full Day Trip – 10 hours
Cape San Martin Trip – 12 hours
What are you waiting for? Book your trip today and experience some of the best fishing Morro Bay Landing has to offer!
Rod & Tackle Information:
The standard Rockcod rig consists of a 7' to 8' fishing rod rated for 15 to 50 lb and a conventional reel capable of holding 200 yards or more of 30 lb monofilament. Many anglers use the thin diameter braided superlines to get a better feel and control during the drift.
Rod & Reel Rental: $15.
Tackle Set up: $10.
Our Catch:
Our standard catch are typical Black Rockcod, Blue Rockcod, Vermilions (REDS), Boccaccio, Olives, Lingcod, Cabazon's and Greenlings. Our deckhands will measure the fish that have minimum size limits and release the ones we are not allowed to keep.
Jackpot & Fish Cleaning:
As the day finishes, the deckhands will call out for a jackpot weigh in (You must put in money before we start fishing if you want to be eligible) Winner take all. The deckhands will then begin to clean the fish. Let them know that you would like your fish filleted. Cost varies. You will go home with a bag full and sometimes 2 bags of beautiful fresh fish.
Tackle Shop:
Morro Bay Landing's tackle shop has everything you need for your fishing trip. Fishing Licenses, Rod Rentals, Fishing Tackle, Hats, Shirts, Sweatshirts, Sunscreen, Sunglasses, Hand Towels, Gunnysack's, Ice Chests, Ice and Motion Sickness Medication.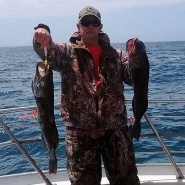 Our Shallow Water Special trips fish in about 50' to 100' of water. The typical Shrimp Fly and squid combo is still very effective at these depths which allows the fish to bite. However, the Shallow Water trips allow the angler to fish with their light tackle rigs, throwing Swimbaits and lighter Jigs out from the boat. It's very electrifying to feel the Rockcod or Lingcod grab your lure while bumping it along the bottom. Which explains the popularity of these trips and why these anglers buy nice fishing rods and reels to present their offerings to the fish. You will also notice that these light tackle anglers often have a heavier sack of fish too.
Deprecated
: strtolower(): Passing null to parameter #1 ($string) of type string is deprecated in
/var/www/vhosts/morrobaylanding.com/httpdocs/wp-content/plugins/elementor/includes/utils.php
on line
727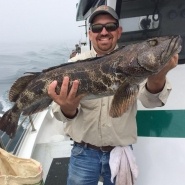 Our typical Deep Sea trips fish in about 150' to 300′ feet of water. Using 1 lb sinkers and a Shrimp Fly rig tipped with cut pieces of squid. The boat will be drifting along, so you will be covering different areas as you fish. You bait your hooks with pieces of squid provided by the deckhands, drop the rig to the bottom, and give the reel 3 cranks up to minimize snags, and wait for the rod to go "BENDO" Then you crank up your fish (sometimes 2 of them) call for the deckhand, and they will pull the fish into the boat or gaff the fish. They will then take the fish off the hook for you and put them into your numbered gunnysack. This is your high percentage rig that will usually get you your limit which is (10) Rockcod and (2) Lingcod. Other fishermen like to use artificial tackle, like Jigs or Swimbaits. These are very effective on the larger Rockcod and Lingcod.
Deprecated
: strtolower(): Passing null to parameter #1 ($string) of type string is deprecated in
/var/www/vhosts/morrobaylanding.com/httpdocs/wp-content/plugins/elementor/includes/utils.php
on line
727